The life of the Church is very interesting. Even such obscure things, seemingly that is, like that of the Papal Theologian, piques my wonder and awe at what is expected in our communal pursuit of Truth. And that's what the Papal Theologian helps us to do: seek the face of God. Perhaps in your seeking Truth, Beauty and Goodness you are genuinely curious about how the Church works and the people behind the work being done?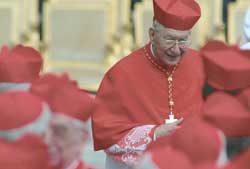 The Papal Theologian emeritus of the Papal Household, Georges Cardinal Cottier, OP, gave an interview to Jose Antonio Varela Vidal at Zenit (11 July 2012) about Blessed Pope John Paul II, with whom he worked intimately: "...he was a man of hope. When he said: 'Do not be afraid,' he certainly said it for the countries occupied by Communism, but he also said it because he saw that there was a certain decadence in the West. I would say he awakened the Church everywhere. Then, his love of life, this was fantastic and he witnessed this love of life in a life profoundly marked by illness, and young people understood him."
What does the papal theologian do for the Church? According to the Cardinal, the particular responsibilities entrusted to the Theologian of the Papal Household: "I had to revise all the texts spoken or signed by the Pope, given that -- with so many employed -- unity of thought, legitimacy and also clarity had to be seen, and this was practically my daily work. I identify my great joys with the Pope's great acts. For example, two years after my arrival, I had to read the Catechism of the Catholic Church and I read it, I remember, with great joy and I was able to make my observations calmly. And then there are the encyclicals, which were very interesting for me, as some of them were entrusted to the Congregation for the Doctrine of the Faith. There, as consultor, I had the opportunity to take part in working groups, and I was able to see and discover the genius of Cardinal Ratzinger, present Pope, who had a gift to lead the working groups, to stress the line, to listen, so everything was wonderful. Another experience which really impressed me was the preparation of the Holy Year."
Georges Marie Martin Cardinal Cottier, a native of Switzerland, professed vows as a Dominican Friar in 1946, ordained priest in 1951, ordained bishop in 2003 and elevated three later to the cardinalate. Cottier was the Theologian of the Papal Household from 1989-2005, under Pope John Paul II. Since the 13th century the Dominican friars have traditionally served the Holy Father. Cottier was succeeded by Polish Dominican Father Wojciech Giertych, O.P., in 2005.