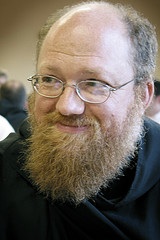 My friend Father Cyril Crawford died unexpectedly a short time ago, on 15 May 2012. He died in his sleep in Leuven (Louvain), Belgium, at the Katholieke Universiteit Leuven, where he was working on a doctorate in Philosophy so that he could teach at his monastery's college.
Over at
The Substance of Things Hoped For
, Benedictine Father Denis Robinson (Rector of Saint Meinrad Seminary) wrote a remembrance of Dom Cyril. Father Denis' words are very true and capture Cyril well. I met Cyril at Saint Meinrad's, in the library, and found him to be a friend.
My heart is saddened, deeply so. Cyril as a good monk, priest with an honest search for God and keen sense of humor and intellect.
More info including Abbot Justin Brown's homily at the Mass of Christian Burial of Cyril
can be found here
.
Saint Benedict and Saint Cyril of Alexandria, pray for Father Cyril, and for us.