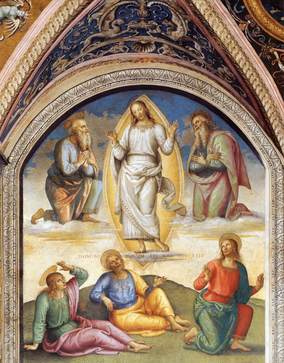 The Byzantine Catholic Church, along with the Maronite Church, begin the Lenten observance. The Byzantines call today Clean Monday, the first day of the Great Fast. Maronites call today "Ash Monday." The Byzantine Orthodox Church will open their Lent on Monday, February 27.
The Latin Church begins her Lent on Wednesday, 22 February.

Among the Byzantines the traditional liturgical practice is to celebrate Great Compline, which will include the singing of a portion of the Great Canon of Saint Andrew of Crete. Find a Melkite parish near you to celebrate Compline tonight.
One of the most important theological image for Lent is the Transfiguration. Hence, let's contemplate the Lord's assent of the mountain and our own desire to move from a life of sin to a life of grace.
O my soul, O my soul, rise up! Why are you sleeping?
The end draws near and soon you will be troubled.
Watch, therefore, that you be spared by Christ our God,
who is everywhere present, and fills all things!
Kontakion, Great Canon of Saint Andrew of Crete
Seeing Christ's house of healing opened,
and health from it pouring down upon Adam,
the devil suffered and was wounded:
and as one in danger of death,
he lamented and cried to his comrades:
"
What shall I do to the Son of Mary?
I am slain by the Man from Bethlehem,
for He is everywhere present and fills all things!"
Ikos, Great Canon of Saint Andrew of Crete
An exhortation to change
Prayer, fasting and alms-giving are normal actions of a good Christian. But many get lazy; so the Church asks us to focus on these in a more intense way during Great Lent, in order to recreate good habits once again. "Let us observe a Fast acceptable and pleasing to the Lord. True fasting is to put away all evil, to control the tongue, to forbear from anger, to abstain from lust, slander, falsehood and perjury. If we renounce these things, then our fasting is true and pleasing to God" (Vespers on First Monday of the Fast).
The Great Fast is a time then for us to change our style of life, bringing it more in conformity to Christ's life. Conversion (the Greek word is metanoia or even metany) is an act of turning, retracing our steps and coming back to godly ways. We recognize our shortcomings and we repent with every metany or bow that we make; we stand upright and the Lord's embrace is open wide.
The Most Reverend Nicholas J. Samra
Eparch, Eparchy of Newton