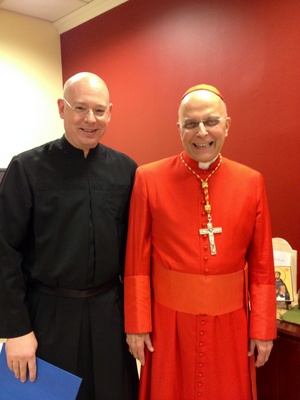 A Christian's observance of Lent brings with it, I hope, a certain discipline of prayer. At
The Church of Saint Catherine of Siena
(411 East 68th Street, NYC) the Sundays in Lent Solemn Vespers will be celebrated at 4 pm.
The Church's prayer is understood as consisting in Lauds, Vespers and Mass. The sacred Liturgy can't be conceived in any other way. In fact, the Servant of God Pope Paul VI wanted parishes to celebrate the Divine Office with regularity to fill out our worship of the Triune God. And as you know, priests and religious are obligated to pray the Divine Office for the Church on a daily basis; the laity are encouraged to pray the same. At Saint Catherine's we pray Vespers following the evening Mass (M-F) and with a more solemn character several times a year. Our praying Vespers in Lent in a more substantial way with singing psalms and hymns, preaching, vesture and incense is consistent with the tradition found with Dominicans.
Lent II: Father Jordan Kelly, OP
Lent III: Father Jay Scott Newman
Lent IV: Father Joel Warden, CO
Lent V: Father Allen White, OP
Palm Sunday: Edward Cardinal Egan
Earlier this afternoon, Cardinal George's homily was absolutely brilliant using Saint Paul's theme of being free in Christ and viz. freedom today and the current issues we are facing in the USA with the current administration of the United States. The Church's choirmaster, Daniel B. Sañez, and the Schola Dominicana was perfect for God's glory.