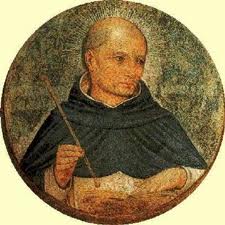 In the Order of Friars Preachers today is the feast of day of Blessed Jordan of Saxony. Blessed Jordan, from Paderborn, Germany (a Saxon noble) known for his piety and charity, was educated at the famed University of Paris. In 1220, he was admitted to the Order by Saint Dominic himself in and a year later was the Prior Provincial for the friars in Lombardy, and a year later he succeeded Dominic as the Master of the Order.
Blessed Jordan's preaching was known to be powerful to the point of bringing Saint Albert the Great to the Order and by extension you might say that he brought Thomas Aquinas to the fraternity. Jordan died in a shipwreck off the coast of Syria in 1237 on a pilgrimage to the Holy Land.
Pope Leo XII
beatified Jordan in 1825.