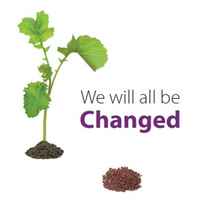 The theme of the '12 Week of Prayer for Christian Unity (18-25 Jan) is taken from Paul's first letter to the Corinthians "We will all be changed by the victory of our Lord Jesus Christ" (15:51-58).
The Church prays for Unity among Christians
Make known in us, O Lord, the abundance of your mercy and, in the power of your Spirit, remove the divisions between Christians, that your Church may appear more clearly as a sign raised high among the nations and the world, enlightened by your Spirit, may believe in the Christ whom you have sent.
On the 25th, Pope Benedict will pray Vespers on the feast of the Conversion of St Paul at the Papal Basilica of Saint Paul outside the Walls with ecumenical partners. He's been committed to this work of ecumenism and has worked to give the work a better and authentic focus. He's called the "Pope of Christian Unity." Let's be united in prayer for the the intention of full, visible unity among Christians.