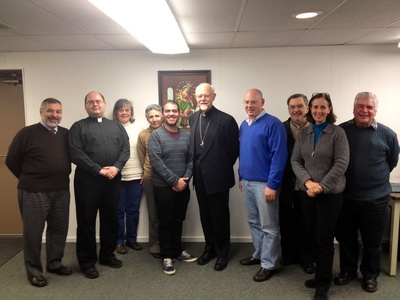 An annual Mass is celebrated for the repose of the soul of Father
Luigi Giussani
(+February 22, 2005) and the good of the
Fraternity of Communion and Liberation
. We are a small but faithful group of friends who help each other to follow Christ and love the Church; we live our Baptism.
The anniversary of the Church's approval of the charism of Communion and Liberation is the feast of Our Lady of Lourdes, 11 February.
Our friend, Bishop Peter Rosazza, an auxiliary bishop of the
Archdiocese of Hartford
celebrated the Sacrifice of the Mass with another friend concelebrating, Father Sal Rosa.
The 2012 Mass was held at Our Lady of Pompeii Church (Route 80, East Haven, CT) was the host thanks to Father John Lavorgna.
The CL movement asks us to live our lives in communion with the Vicar of Christ, the Pope. This communion, this fidelity to the sacred Scripture and sacred Tradition is expressed with concrete expressions of communion with the bishop of the diocese in which we live and therefore marking a gesture of communion with the Pope. Hence, by praying the Mass celebrated by Bishop Peter we demonstrate that we are in communion with him and Archbishop Henry Mansell (successors of the apostles) who are in communion with Pope Benedict XVI.