Frère André, nous t'acclamons: Dieu t'achoisi depuis toujours. Grand ami de Saint Joseph, prie pour nous dans la gloire. (hymn by M. Dubé, OP).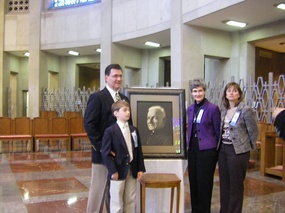 Today the members of the Congregation of Holy Cross gathered for a Mass of Thanksgiving for the Canonization of Saint André Bessette of Montréal at the Cathedral of Saint Joseph, celebrated by His Excellency, the Most Reverend Henry J. Mansell, archbishop of Hartford. About 250 people attended the Mass, including members of André Alfred Bessette's family, a few alumni of the Notre Dame High School (West Haven, CT) and Holy Cross High School (Waterbury, CT). Several of the Brothers and Fathers of Holy Cross came from a good distance with together for this wonderful occasion. It's not everyday that one could say that a saint has come from your region of the world! Saint André, as very young man, labored outside of his native Canada in New Hampshire and Connecticut.
Since I am a graduate of two Holy Cross institutions, Notre Dame High School of West Haven and the University of Notre Dame, today's celebration had great meaning for me. It was at the foot of Holy Cross Brothers that I had an education, two of whom I saw at the Mass. Plus, and I have always felt close to this blessed brother, Saint André. But I didn't learn about the Sainted Brother at Notre Dame High School; sadly, I learned about him from others than his brothers in the Congregation. A topic for another time. His attractiveness lies in his humility, his desire to make a contribution no matter what the cost no matter how menial, his constant prayer, and his openness to suffer for One who is greater than he. When I hear Brother André's name I think of Saint John the Baptist, "I must decrease, He must increase." In the first reading for today's Mass the point was clear: we should glorify God in all things. And there we go... Brother André never pointed to himself and that is a rare quality today, especially for churchmen. So figure, I can learn a virtue from a humble lay brother.
The Archbishop recounted for the congregation that Alfred Bessette was born in 1845 weak in health; his father died when he was 6 and his mother died when he was 12. In a family of 12 there were tremendous needs. Therefore, Alfred didn't attend school but labored on a farm, as a tinsmith, blacksmith, baker, a cobbler and a coachman. The finger of God could be seen in the simple and necessary work that Alfred did: these jobs allowed Alfred to meet the merciful and sustaining God. His real human need taught him to rely exclusively of God. He believed, "People worry for nothing. In times of need, their salvation will come from God."
His friend and parish priest, Father André Provençal introduced Alfred to the Congregation of Holy Cross saying to the superior of the community, " I am sending you a saint...." It was on November 22, 1870, that Alfred made an application to the Holy Cross Congregation as a brother candidate, and given the name André, in honor of his friend. Brother André is reported to have stated: "When I entered the community, my superiors showed me the door, and I remained there these 40 years without leaving." Imagine 40 years at the College Notre Dame as your only ministry! Brother André used to spend 6-8 hours a day receiving visitors, counseling them, healing them, being a friend to many...or simply put, being a friend who opened the door.
Making a connection with a hospital association Archbishop Mansell noted a connection Saint André: to heal the sick, to avoid things that harm a person and to be hospitable to all. This is the key to following Christ today.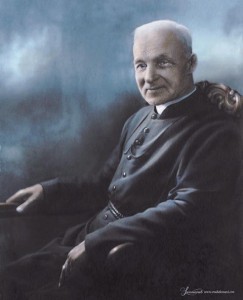 Archbishop Mansell said that for an illiterate person, while he memorized great portions of sacred Scripture including the Sermon on the Mount, the various versions of the Passion, Brother André lived the essence of Scripture. It was a gift from God that Brother André was able to call women and men to live their faith with intimacy and intensity because he himself had experienced a profound communion with Christ. Brother André showed his friends that the Cross of Jesus is our hope and the root of our communion with Christ; it is the atonement of the Cross that shows us the way to our destiny.
Holy Cross Brother Thomas Dziekan, Vicar General of the Congregation of Holy Cross, gave a post communion reflection in which he highlighted the very important fact that the reason we were all here for the Mass of Thanksgiving is that we've had some kind of relationship with Brother André. For Brother Thomas, and therefore I think it's also true for us, that in simple ways, though not insignificant, God speaks to us.
The gift that Saint André relates to us the humility one needs to be aware of a profound love for God -a complete trust in Divine Providence--from which we are able to welcome, serve, pray, counsel, teach and be a brother to others. In a real sense, when Brother Thomas said this I thought that what he's speaking of is the vocation to his Congregation. This is what it means to embrace the cross as our only hope.
But what does it mean that André is a saint? Let point to a few things: he was fully human, dependent upon and aware of God's will; he looked on others with the eyes of Jesus; and, he prayed often with the heart, always persevering by making a holy hour, praying the rosary and observing vigils.
People will frequently note that Saint André was responsible for the Oratory of Saint Joseph in Montréal but the saint demurred: "This is not my work; it is the work of Saint Joseph. Place a statue of him in the middle of the building. If he wants a roof over his head, he'll see that one is provided."
One last fascinating thing of Saint André: he said once that when you say the Our Father God has his ear near your lips.
Brother André's last words are said to have been, "Ite ad Ioseph" (go to Joseph). Even near to death André pointed his friends to Saint Joseph. He said, "It is God and Saint Joseph who can heal you, not I! I will pray to Saint Joseph for your." On October 17, 2010, Pope Benedict raised Blessed Brother André to the altar.
Saint André of Montréal, brother, friend and saint, pray for us!