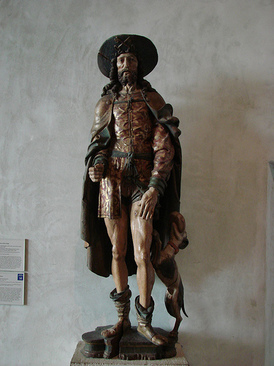 O blessed Saint Roch, patron of the sick, have pity on those who lie upon a bed of suffering. You power was so great when you were in this world, that by the sign of the cross, many were healed of their diseases. Now that you are in heaven, your power is not less. Offer, then to God our sighs and tears and obtain for us that health we seek through Christ our Lord.
A native of Montpellier (France) who after the death of his parents and giving his money to the poor, he went to Rome on pilgrimage. At the time of his stay in Italy (c. 1348) it was the time of the Black Plague. A mysterious mark on his chest in the formed of cross identified him and by the sign of the cross did Roch heal the sick. Having cared for the plague victims Roch caught the sickness himself. Thinking he'd retire alone to forest near Piacenza to prepare for his own death a dog became his companion, licking his wounds and providing food. The saint recovered his health. Returning to Montpellier he was not recognized and imprison as a spy. At his death in 1378, the mark of the cross on his chest alerted the people to Roch's identity. Members of the Council of Constance asked Saint Roch to spare them from the plague and indeed it was lifted.
Saint Roch is a famous patron of those living with the severe sickness as he was called upon in his lifetime and after during the plague. The iconography associated with Saint Roch includes a dog, a pilgrim's robe and staff.
Update (8/17):
My friend Father Matthew Mauriello is the pastor of Saint Roch's Church, Greenwich, CT.
The Greenwich Times
ran a story on the procession he led on the saint's feast day. Read about it
here
and watch
the slide show
.