Today is the liturgical memorial of
Blessed Jeanne Jugan
(Sister Mary of the Cross), a relatively unknown sister here in the USA unless you you've met them begging for money to sustain their life and work. She is soon to be canonized by Pope Benedict XVI on October 11th.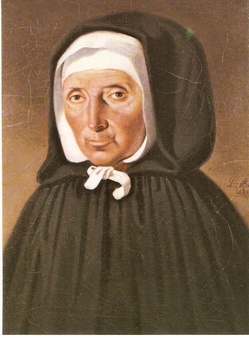 The congregation of sisters founded by Blessed Jeanne,
The Little Sisters of the Poor
, are an exceptional group of women who dedicated themselves to doing small things for the poor for the sake of the Gospel: be humble, i.e., be little in order to be close to the humble
and
making the poor happy is everything. It was the spirituality of Saint John the Baptist: I must decrease and He must increase. Jugan was very much influenced by Saint John Eudes because in him she saw a path that corresponded to her heart: we must be other Christs on earth and to go to Jesus through Mary. Jugan called together women to serve poor elderly women, a work of charity that Jeanne had done for her own conversion since she was a young woman. Not only did Jeanne address the physical needs of the women she served, but she also attended to the spiritual ones too. The Little Sisters take a 4th vow of being hospitable: showing mercy to our poor brothers and sisters.
Here in Connecticut the Little Sisters of the Poor are located in Enfield but there was a time that they had a house in New Haven. Sadly, the New Haven community closed when the health care politics got to be too much for the sisters to handle.
When I am visiting the local Catholic cemetery I make it a point to visit the graves of the Little Sisters who died in New Haven. For me it is a way being grateful for the work and witness of the sisters in New Haven.
Among the recent books about Blessed Jeanne are: