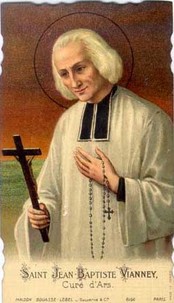 Here is a select list of works by or about John Mary Vianney, the
Curé

(the parish priest)

. This list is especially helpful to have at one's finger tips since the Holy Father has called for the coming year to honor the sainted parish priest of Ars, France, who died 150 years ago on August 4. This year focuses our spiritual work on the idea (hope) of "spiritual perfection." The forthcoming Year of the Priest is a fitting opportunity to respond to the Pope's call to renew the priesthood of Jesus Christ. The hope is that this dedicated year will focus our attention on the centrality of Christ which absolutely sets the stage for everything in the Church, priest and lay person alike.
St. John Mary Vianney,
Thought of the Curé D'Ars
.
St. John Mary Vianney, Sermons of the Curé of Ars.
St. John Mary Vianney, The Little Catechism of the Curé of Ars.
-Milton Lomask, The Curé of Ars: The Priest Who Out-Talked the Devil.
-George W. Rtuler, The Curé D'Ars Today: St John Vianney.
-Francois Trochu, The Curé D'Ars: St Jean-Marie-Baptiste Vianney.
-Mary F. Windeatt, The Curé of Ars: The Story of St. John Mary Vianney, Patron Saint of Parish Priests.
The award winning actor and director Leonardo Defillipis has been working on a one-man drama of Saint John Mary Vianney for a few years and providentially the Year of John Mary Vianney comes together nicely for the drama. His stage work "
Vianney
" will be inaugurated on August 4.