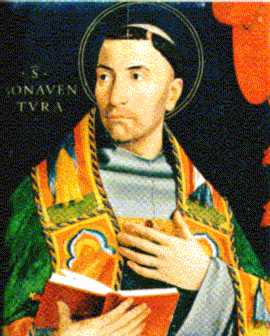 One of the famous works of Saint Bonaventure's is his Journey of the Mind to God. You see it in many places for those wanting a glimpse into this significant medieval thinker. It was in the Roman Divine Office of Readings. We always need an insight or two into contemplation, what it means, how it exists, and so forth. There is no exhausting one's search into understanding mystical prayer.
I want you to listen to Veronica Scarisbrick's interview with Franciscan Father Rick S. Martignetti who works in Rome and has authored of Saint Bonaventure's Tree of Life: Theology of the Mystical Journey (Grottaferrata, 2004). It is a study of Bonaventure's understanding on prayer and life in the paschal mystery. I found Scarisbrick's interview both delightful and helpful.
Christ is both the way and the door. Christ is the staircase and the vehicle, like the throne of mercy over the Ark of the Covenant, and the mystery hidden from the ages. A man should turn his full attention to this throne of mercy, and should gaze at him hanging on the cross, full of faith, hope and charity, devoted, full of wonder and joy, marked by gratitude, and open to praise and jubilation. Then such a man will make with Christ a pasch, that is, a passing-over. Through the branches of the cross he will pass over the Red Sea, leaving Egypt and entering the desert. There he will taste the hidden manna, and rest with Christ in the sepulchre, as if he were dead to things outside. He will experience, as much as is possible for one who is still living, what was promised to the thief who hung beside Christ: Today you will be with me in paradise.