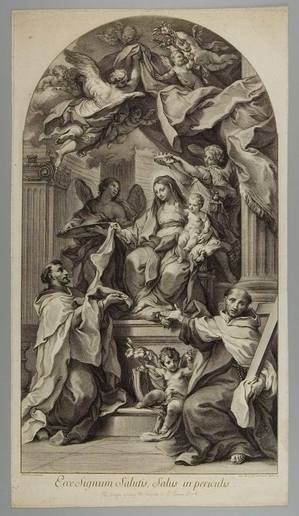 Saint Simon was the English Carmelite Superior General of the Carmelite Order (†1265) who is most remembered for receiving from the Blessed Virgin the brown scapular with a promise that one is not lost at death if wearing the scapular. Stock was a hymn writer, a good leader and a man of sanctity, whom the Church recognized soon after his death. The liturgical offices were approved by the Church in the 15th century.
It is said that Simon heard the Mother of God say,
Hoc erit tibi et cunctis Carmelitis privilegium, in hoc habitu moriens salvabitur.




(This shall be the privilege for you and for all the Carmelites, that anyone dying in this habit shall be saved.)



The bestowal of the scapular was given to the Carmelite friars alone but now any priest can bless and enroll someone in the scapular. The brown scapular is associated with the Carmelite friars with the title of Our Lady of Mount Carmel. The brown scapular is one 18 approved scapulars worn in devotion.
There is a lot of pious legend about today's saint, but there are some things that we are reasonably sure about. The Bollandists write the following of Saint Simon Stock:
Saint Simon Stock was born of one of the most illustrious Christian families of England, at the castle of Harford in 1164. Certain prodigies marked him, while an infant in the cradle, as a soul chosen by the Mother of God for Her own. Not yet one year old, he was heard to say the Angelic Salutation distinctly, before he had reached the age to learn it. As soon as he could read he began to recite the Little Office of the Blessed Virgin, and he would never cease to do so daily. He read Holy Scripture on his knees at the age of six. He became the object of the jealous persecution of one of his brothers, and at the age of twelve determined to leave and go to live in a forest.