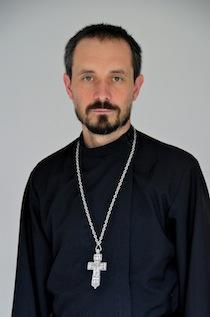 There is a new auxiliary bishop for Greek Catholic Archeparchy of Presov, Slovakia, Jesuit Father Milan Lach. He is the first Jesuit to be elected a bishop during the pontificate of Pope Francis.
Bishop-elect Lach will join another Jesuit who serves as the Archbishop of Presov, Ján Babjak, 59. The archeparchy has more than 140 thousand people. Archbishop Babjak was just here in the USA making a pastoral visit.
Bishop-elect Milan, 39, has been the vice-dean of the the Faculty of Theology of the University of Trnava. Lach entered the Society of Jesus (the Jesuits) in 1995 and ordained priest in 2001. For 2 years he worked at the Centre of Spirituality East-West of Michal Lacko, where he was also the Jesuit superior. In the 2009 he was awarded a degree in spirituality at the Pontifical Oriental Institute and livingnext door at the Pontifical Russian College.
In 2010 he became a member of the editorial board of the theology journal, Verba Theologica.
Mnohaja l'ita!