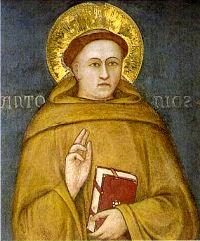 Almighty ever-living God, who gave Saint Anthony of Padua to your people as an outstanding preacher and an intercessor in their need, grant that, with his assistance, as we follow the teachings of the Christian life, we may know your help in every trial.
One of the beautiful things that happened today was the reception of First Holy Communion of Giovannimaria Rainaldi, 6, who is living with neuroblastoma. From Rome, Italy, he's been here seeking treatment at Memorial Sloan-Kettering. Giovannimaria has had a setback and needs our fraternal and prayerful support.

Be sure to read the select for Saint Anthony in the Office of Readings. As usual, it's good for meditation.
Saint Anthony help us to find Christ, and stick with Him. Pray for us.