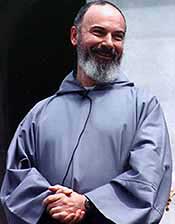 In the past days the story of Father John Corapi's taking a break from the Catholic priesthood has been circulating. In the meantime, read the current news of Father Corapi, 64, on his blog,
The Black Sheep Dog
.
Distressing indeed and a situation that requires guidance from the Holy Spirit. So, pray to Saints Padre Pio and John Neumann and John Mary Vianney for their intercession.
Corapi's account of the situation and the process of investigation for innocence (or guilt) is too problematic. The problem with the case is not with Father Corapi --yet there are questions that persist-- but in the process of coming to truth. Or so it seems.
May the Most Trinity, shower grace on us.