Last night at the Church of Saint Catherine of Siena (NYC) a remarkable event took place. About 120 people from all over the Metropolitan New York area attended an event co-sponsored by the Siena Forum for Faith and Culture and Crossroads Cultural Center whereby we wanted to know more about a pivotal figure of the 20th century who was truly human and in love with Christ through the poor, the Servant of God Dorothy Day. Ms. Mary Lathrop, a longtime friend and spiritual daughter of Day's, with Monsignor Lorenzo Albacete, spoke about the person of Dorothy Day, the Catholic Worker Movement and Catholic Social teaching. Albacete as you know is the well known priest, physicist and theologian who works with the lay movement Communion and Liberation in the USA. Lathrop is a remarkable woman of faith and conviction who gave us a deeper appreciation for the real person that Day was and not the ideaology that is often passed off for the same.
A video of the event is located here.
The following article by Monsignor Lorenzo Albacete was published today on Il Sussidiario (English edition):
This week I was asked to participate in a discussion about Dorothy Day, founder of the "Catholic Worker Movement." The story of her life captures like none other the history of the Catholic Church in the United States during the last century, and a judgment on her life pretty much indicates how American Catholics look at the challenges and opportunities of the 21st century.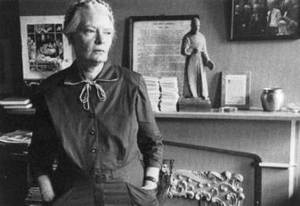 Dorothy Day was born in Brooklyn, NY, on November 8, 1897 and died on November 29, 1980. I must confess that I knew very little about her during the 60's and 70's, except that she was a very controversial Catholic pacifist, feminist, and maybe socialist who made many Church authorities very nervous (and still does here and there). I knew about her opposition to the atomic bombing of Hiroshima, but it was not until recently that I read her stunning editorial excerpted below so you can get a feel for her soul's style:

Mr. Truman was jubilant. President Truman. True man; what a strange name, come to think of it. We refer to Jesus Christ as true God and true Man. Truman is a true man of his time in that he was jubilant...the newspapers said. Jubilate Deo. We have killed 318,000 Japanese...

Jubilate Deo. President Truman was jubilant. We have created. We have created destruction. We have created a new element, called Pluto. Nature had nothing to do with it...

Brought into being in a cavern, and then tried in a desert place, in the midst of tempest and lightning, tried out, and then again on the eve of the Feast of the Transfiguration of our Lord Jesus Christ, on a far off island in the eastern hemisphere, tried out again, this "new weapon which conceivably might wipe out mankind, and perhaps the planet itself."

"We have spent two billion on the greatest scientific gamble in history and won," said President Truman jubilantly...Scientists, army officers, great universities (Notre Dame included), and captains of industry -- all are given credit lines in the press for their work of preparing the bomb -- and other bombs, the President assures us, are in production now...

Everyone says, "I wonder what the Pope thinks of it?" How everyone turns to the Vatican for judgement, even though they do not seem to listen to the voice there! But our Lord Himself has already pronounced judgment on the atomic bomb. When James and John (John the beloved) wished to call down fire from heaven on their enemies, Jesus said:

"You know not of what spirit you are. The Son of Man came not to destroy souls but to save." He said also, "What you do unto the least of these my brethren, you do unto me."
It was like that with every issue she judged. She saw and experienced everything from the perspective of the poor, of those who have nothing but their existence as a claim on us. But this was not a vision based on a political or economic ideology. It originated in her knowledge of Christ, a knowledge obtained through her own way of the Cross as she sought to follow Him.

Think of the issues which concerned her: jobs, unemployment insurance, relief for mothers and children, health care and housing...issues facing the country today still. Back in 1932 she went as a journalist to Washington to cover a "Hunger March" demanding recognition of these rights - a cause she supported - but she did not join the March because it was organized by communists. Instead she went to the National Shrine of the Immaculate Conception. It was December 8, the solemnity of the Immaculate Conception. "I offered up a special prayer, a prayer which came with tears and anguish, that some way would open up for me to use what talents I possess for my fellow workers, for the poor." The next day back in New York, she met Peter Maurin, a French immigrant 20 years her senior, who was to be her spiritual companion in the foundation and growth of the Catholic Worker Movement.

Many Catholics today ask themselves how to face the issues of today - which for all the superficial changes remain basically the same. How does our faith move us to generate a more human society, to build a culture of life? The testimony of Dorothy Day is there for us to move and guide us.

The Holy See has authorized the beginning of the process that could lead to her eventual canonization. She once said that she did not want to be called a saint because she "didn't want to be dismissed so easily". Still, it is only through his saints that the Lord creates a new world.