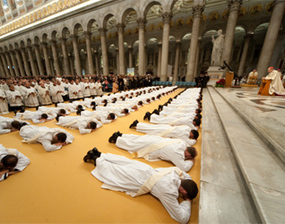 On Christmas eve morning, Cardinal Valasio De Paolis, CS, the pontifical delegate for the Legion of Christ, ordained 61 new priests on Christmas eve at Saint Paul outside the Walls. The Most Reverends Brian Farrell, LC and Paolo Schiavon, respectively from the Pontifical Council for the Promotion of Christian Unity and auxiliary bishop of the Diocese of Rome, concelebrated.
Among the 61 ordained 7 from the USA, 3 from Canada and 28 from Mexico.
Priestly ordinations in the Legion of Christ typically happen on Christmas eve so that on Christmas day the newly ordained priest celebrates his first Mass of Thanksgiving on the great feast of the Incarnation.