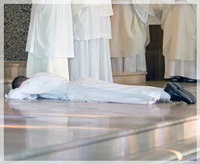 The Norbertine canons of
St Michael's Abbey
(Silverado, CA) produced a terrifically inspiring vocation video. As an order, the Order of Prémontré (Norbertines) were founded in 1121 by Saint Norbert who adopted as the order's motto,
prepared for every good work
, known essentially the charism of praying the Divine Office and the Sacrifice of the Mass. The ministry of a Norbertine is to make to the world the fruits of his contemplation. St Michael's Abbey was founded in 1961 and the community has 70 members whose median age is about 43 years.
The Vineyard of Light vocation
video of St Michael's Abbey