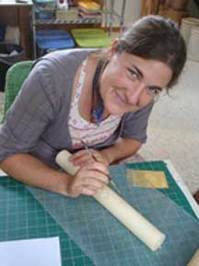 The Benedictine nuns of
The Abbey of Regina Laudis
in Bethlehem, Connecticut, have for several years run a
monastic intern program
where people come to live the life of the nuns, explore their vocation, gain a fuller appreciation of creation and experience healing (even if the healing isn't sought). The rhythms of life the nuns have are suited to being more humane and educative. The participants in the monastic internship program are not necessarily thinking of becoming nuns and priests, many pursue their life's calling as they know it by being teachers, doctors, lawyers or farmers.
A recent monastic intern, Brenna Cussen, wrote an essay on her experience, her desires and the calling she's received in "
Craft and the Holiness of Matter
." Scroll to the bottom of the webpage for the essay.