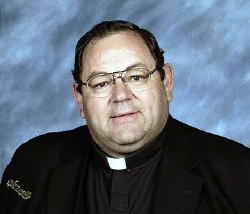 Please keep in your prayers the repose of the soul of the Reverend Father Brian W. Monnerat, 60, priest of the Archdiocese of Hartford, who died, July 14, 2010, while on vacation with his family. He was ordained a priest in 1988, when I first met him. This is a sad time for the archdiocese.
Father Brian was the pastor of Saint Matthew Church, Forrestville, CT.
A special prayer for priests, and for those who struggle with their weight and have cardiac problems.
Come Holy Spirit. Come through Mary.