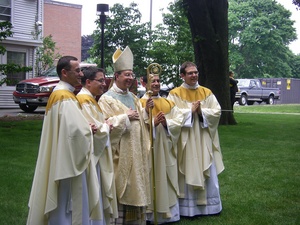 The Most Reverend William E. Lori ordained four deacons to the holy priesthood of Jesus Christ today at Mass celebrated at the Cathedral of Saint Augustine, Bridgeport, CT. The newly ordained priests, Fathers Jeffrey Couture, Karol Ksiazek, Jaime Marin-Cardona and Michael Novajosky will serve in the
Diocese of Bridgeport
.
Bishop Lori spoke eloquently about the need for the priest to be both disciple and shepherd of Jesus Christ. A "theme" of the Scriptures proclaimed at Mass, particularly Psalm 23, 1 Peter 5 and John 10. I think one can argue that a failure to live with both dimensions of priesthood (the common & ministerial) constantly in heart and mind is a lack in understanding of the vocation given by the Lord which could lead to mistakes in the exercise of the priesthood. Sure, there may be times when the shepherd aspect of a priest's life may be more evident but the sitting at the feet of the Lord is required of any good shepherd. That is, one can't be a shepherd if one is not first a disciple! The bishop related a story from the experience of the late Cardinal James Hickey who quietly yet confidently tried to live his priesthood as both disciple of Jesus and to act as a good shepherd for the flock his was given to lead to heaven.
The bishop also exhorted the newly ordained and those present to practice what we say we believe. Integrity of life is so very needed for the witness to be credible. Those who despise the Church cannot assail the Church and her ministers (the faithful included) if how one lives is in accord with what one professes to be true.
One small and interesting item happened at the Litany Saints --when the Church kneels and those to be ordained lay prostrate on the floor in humility-- asking the saints to intercede for us, the cantor invoked the intercession of
Saint Oliver Plunkett
, the sometime Primate of Ireland of the 17th century convicted of treason by England and killed for the faith at Tyburn. Plunkett was the last martyr to die in England; he was canonized by Pope Paul VI in 1975. And this is an example of something that can make you go "hmmmm" in the sacred Liturgy. Nevertheless, I was elated someone has a devotion to Plunkett!
At the conclusion of the Mass Bishop Lori announced to the congregation the assignments of the new priests:
Reverend Father Jeffrey W. Couture will be at the Saint Edward the Confessor, New Fairfield
Reverend Father Karol J. Ksiazek will be at Saint Therese, Trumbull
Reverend Father Jaime Marin-Cardona will be at Saint Joseph, South Norwalk
Reverend Father Michael P. Novajosky will be at Saint Jude for the summer before returning to Rome to complete his studies for the License in Sacred Theology (Patristics)