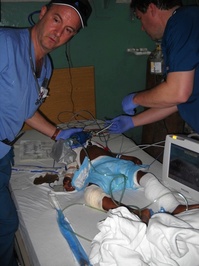 I've been getting daily updates from the CRUDEM folks in Haiti. I am sure many are keeping current on the efforts of those trying to help the earthquake victims. The stories of the tragedy and the human efforts sustained by God, I am convinced, move the heart.
Financial gifts to an agency is a good thing AND so is prayer. Please consider making a contribution to
AVSI
,
CRS
and the
Order of Malta
is recommended
and
asking the Sacred Hearts of Jesus and Mary to guide this human process of aiding our Haitian sisters and brothers is crucial. When the earthquake was announced I mentioned asking for the divine mediation of Venerable Servant of God Pierre Toussaint: I renew that request. When you visit the Blessed Sacrament today make a prayer for Haiti!
The crisis continues and so does the
humanitarian efforts in the areas of medicine and food
outreach to help the citizens of Haiti recover their lives. Human resources, budgets and food supplies are stretched thin, for obvious reasons. Many, many acts of kindnesses have be demonstrated. Keep yourself engaged by visiting
CRUDEM
.