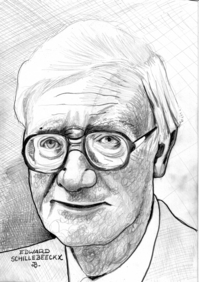 Friar Edward Schillebeeckx, OP, died on December 23, 2009. He was 96. May he rest in peace.
In my sacraments class this past semester I had to re-read Schillebeeckx's Christ, The Sacrament of the Encounter with God, which I very much enjoyed the second time. His thinking was clear and provocative and orthodox. The same level of orthodoxy can't be said of all his later work, I dare say, but it was always provocative. Apparently followers of Friar Edward's work can expect another work on sacramental theology.
And so, we pray for God's mercy, and His blessed light, happiness and peace for Friar Edward.