In a recent talk to the students, staff and faculty of Saint Vladimir's Orthodox Theological Seminary, the newly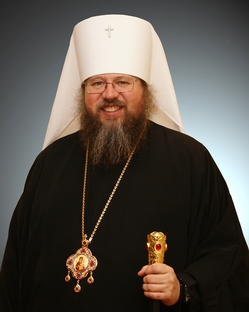 elected Metropolitan of the Orthodox Church in America, Jonah, said:
"All leaders of the Church, who take up the yoke of Christ must have a clear vision of theological education, which consists in four things: first, we must present the gospel of Jesus Christ; second, we have a mission to evangelize all people, regardless of color, ethnicity, or socio-economic status; third, we must bring integrity to the gospel message; and fourth, we must take up the task of bearing the presence of Jesus Christ to those around us."
Apparently, he is big on the need to imitate the sacrificial path of Christ and his mother, the Virgin Mary. "To become the living presence of God, the living temple of God, requires us to crush our ego and shatter our will," he said, "so that we might conceive God within us and become his presence in this world."
"Seminarians," he asserted, "do not come to theological schools to become 'professionals' and to be 'respected,' but rather to be crucified and thereby shine forth the light of Christ." His Beatitude reminded the seminarians that his own title of "episkopos" means not "master of the house," but "slave of slaves."
This guy has a backbone. Watch out. I predict we're going to hear more good things from His Beatitude. Are YOU on board with this view of Church, formation, and service?