When Rev. Mother Dolores Hart walked away from her life as an actress in Hollywood to become a nun in Connecticut, she thought she had put acting behind her.
For the actress formerly known as Dolores Hart, who starred opposite Elvis Presley, Montgomery Clift and Anthony Quinn, acting would eventually come back into her life. She now sees it as part of her vocation as a Benedictine nun, although her role is solely backstage. At the Abbey of Regina Laudis in Bethlehem, she has helped cultivate a passionate theater community as an artistic director. In a 200-seat outdoor theater, The Gary-The Olivia Theater, built on the grounds, a play is presented each summer by the community, which has made Mother Dolores see that the arts can bring one closer to God.
On Wednesday, Oct. 29 at Fairfield University, Mother Dolores will discuss how spirituality and theater are entwined in a talk, "The Gary - The Olivia Theater: An Expression of Benedictine Monasticism's Contribution to the Arts." Presented by the University's Center for Catholic Studies, the event is the 3rd annual Catholicism & The Arts Lecture. It is free and open to the public and will take place in the Charles F. Dolan School of Business dining room at 8 p.m. Mother Dolores, who received an honorary doctorate from Fairfield in 2004, will share the story of her early life as an actress, her calling, and the theater's unique origins (involving an Oscar winner) with the ways in which she understands that theater can be to some degree an expression of the Benedictine spirituality.
The Gary-The Olivia is a home for quiet contemplation, a vehicle for positive change, and ultimately, a holy place. Mother Dolores has come to realize that she can help young people discover their own vocation in Christ through the medium of theater. "Theater can lead to spiritual transformation," she said. "Every year when we stage a play, I see some type of transformation happen in certain actors," she said. "That's because the theater calls on actors to be grounded in their body and the truth of their feelings and who they really are. This causes people - young people who have never been on stage and older individuals who know the stage well - to see clearly, to see, perhaps not in full form quite yet, their vocation in life and the path that they must forge. Those who really understand acting know you have to be in touch with your own truth, and this truth is rooted in God."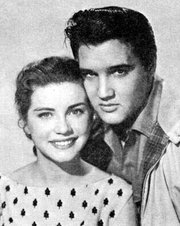 The daughter of actors and the niece of singer Mario Lanza, Mother Dolores fell in love with movies watching them with her grandfather, who was a movie theater projectionist. She decided she wanted to be a movie actress and got her start barely out of high school. Her first film was also Elvis Presley's first film, "Loving You," released in 1957. She also worked with Presley in "King Creole." She starred with Connie Francis in "Where The Boys Are." During her brief yet very busy career, she worked with prominent directors Hal Wallis and George Cukor, and actors Walter Matthau, Maureen Stapleton, Frances Farmer, Robert Wagner, and Karl Malden. She received a Tony nomination for her work in the Broadway play, "The Pleasure of His Company." In 1962, she made a film, "Lisa," which was the story of a Dutch holocaust survivor trying to make her way to Palestine, a role that had a profound impact on her life and prompted her to hear God's calling. She left Hollywood for Bethlehem in 1963.
The Abbey of Regina Laudis is a cloistered order of about 40 Benedictines who live on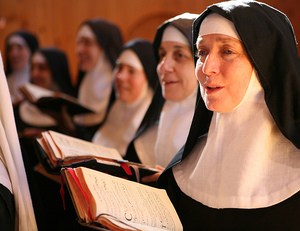 the Abbey's 400 acres. Mother Dolores is the Prioress. The nuns' daily life includes chanting the Divine Offices seven times a day in Latin, and tending to their dairy farm, where they make cheese, look after a beef herd, pigs, sheep, lamma and a donkey. They take care of the property's extensive orchards, and try to be as self-sufficient as possible. It is a life in keeping with St. Benedict's dictum that their lives should be a balanced combination of prayer and work. A special part of the nuns' lives is the theater, which has evolved over the past nearly three decades. Productions staged there have included "My Fair Lady," and "West Side Story," as well as plays by Chekhov and Jean-Paul Sartre.
Preparing for the upcoming talk at Fairfield has caused her to look back over the last 40 years or so of her Benedictine life and to marvel at how her life and that of her monastery have been shaped. She sees how her vocation as an actress has come to a full and gratifying expression through the mysterious development of The Gary - The Olivia.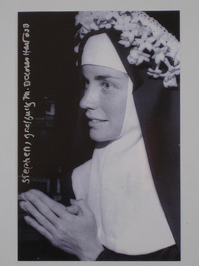 Interestingly, The Gary - The Olivia owes it origins in part to the inspiration of another film actress, Patricia Neal, who won an Oscar for her work in "Hud." In 1980, Neal sought refuge in the Abbey during trying personal times. Uncertain that she could ever be on stage again, Neal was encouraged by the nuns to give a poetry reading on the Abbey land. With her help and other friends, the theater was built in 1986. It was named in part after Neal's late daughter, and for her friend, Gary Cooper.
For information about attending the talk, please call (203) 254-4000, ext. 3415.
Read a Barbara Middleton interview with Mother Dolores
Also, you ought to read this article in The New York Times is interesting.