The other day Bishop Patrick O'Donoghue of the Diocese of Lancaster, England, released a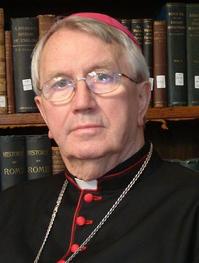 92-page document which is seen as highly critical of the Church in England since the Second Vatican Council. The Catholic Herald carries the story.
Several areas of concern are addressed by Bishop O'Donoghue: hope in Christ, Vatican II, Catholic identity, the work of the Trinity in our lives and in the Church, the role of the sacred. Liturgy, Divine Revelation's hold on us, dogma, and various other points concerning society and culture.

The bishop's document, "Fit for Mission?" seems insightful and is worth the time reading. The concerns that Bishop O'Donoghue has for the Church in his diocese, indeed for all of England are similar for those of us who live in North Americans. For that matter, they are the same concerns Monsignor Luigi Giussani had in the 1950's Italy and later articulated by Popes John Paul II and Benedict XVI. Namely, do you have a personal relationship with Christ, do you adhere to the objectivity of the Church, is faith a moralism or a way of knowing, living and loving, does your destiny really matter to you?