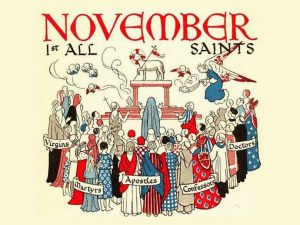 We are called to be saints. "The saint is not an isolated individual. There is no sanctity without belonging." Today is the feast proposed by the Latin Church by which we realize that sanctity is the vocation to which we all are called. (The Byzantine Church celebrates the Sunday after Pentecost as All Saints Day.)
From a sermon by St. Bernard: "Calling the saints to mind inspires, or rather arouses in us, above all else, a longing to enjoy their company, so desirable in itself. We long to share in the citizenship of heaven, to dwell with the spirits of the blessed.
Come, brothers, let us at length spur ourselves on. We must rise again with Christ, we must seek the world which is above and set our mind on the things of heaven. Let us long for those who are longing for us, hasten to those who are waiting for us, and ask those who look for our coming to intercede for us."
Here's the point of the Christian life on earth and in heaven, and the point of sanctity which we recognize in the saints: "a longing to enjoy their company" in the communio of the Divine Majesty.  But in order to get to the point of a communio with God there are things we have to work on. What are our desires? Are our desires purified or are they riddled with disordered affections? Do we have a poverty of spirit? Do we want to dwell with the spirits of the blessed? Or, are we satisfied with our current circumstances? Do we speak of divine things, things of God, or are we obsessed with the things of this world (gossip, self-centeredness, personal sin, anger, etc.)?
Saying 'yes' to Christ is saying yes to being in communion with Him, to love Him above all else, to follow in the footsteps of the saints. Having the companionship of the saints shows us the path to the beatific life. The saint is the 'the saint is the true man.' Do you want to be true?