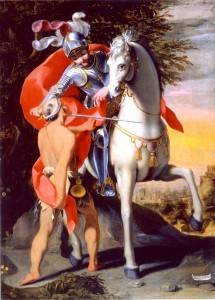 The feast of Saint Martin of Tours (+397) is always a very special for me. His hagiography inspires. Perhaps it is the similar for you. The words attributed to John Henry Cardinal Newman will orient your day.
O God, who are glorified in the Bishop Saint Martin
both by his life and death,
make new, we pray,
the wonders of your grace in our hearts,
that neither death nor life
may separate us from your love.
Through our Lord Jesus Christ, your Son,
who lives and reigns with you in the unity of the Holy Spirit,
one God, for ever and ever.
May Christ support us all the day long,
till the shadows lengthen,
and the evening comes,
and the busy world is hushed,
and the fever of life is over
and our work is done.
Then in his mercy
may he give us a safe lodging,
and holy rest and peace at the last. Amen.