Today is the summer feast of the Holy Patriarch Benedict.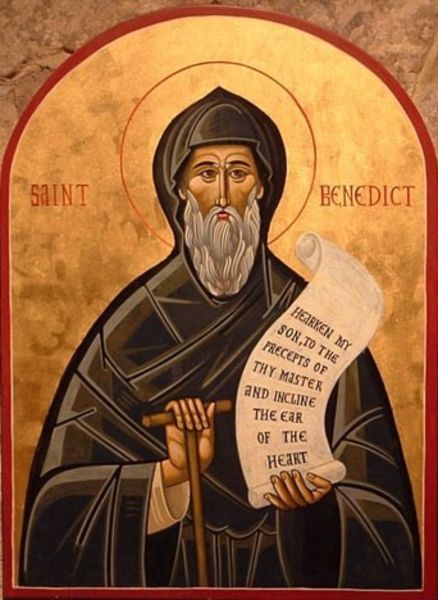 It is a day to heed the advice of Benedict: seek the Lord and listen to him. It is also a day to celebrate the feast with beer made by monks.
Benedict's vision for monastic life is that the monk/nun live in community. One's life in a stable, permanent community locates and lives the reality of the Lord's Incarnation. We are keenly reminded that in Benedict's experience human interaction shows an experience of Christ: the abbot holds the place of Christ; Christ in the guest, in the young monks, and in the seniors. Ultimately, no one is excluded in the Benedictine vision monastic life: every human interaction the monk/nun meets the Lord, in the flesh. This is keenly true for the Oblate and every other person.
I am remembering the words of Saint John Paul II had for the sons and daughters of Benedict: "May every Benedictine community present itself with a well-defined identity, like a "city on a hill," distinct from the surrounding world, but open and welcoming to the poor, to pilgrims and to all who are searching for a life of greater fidelity to the Gospel!"
As with all solemn feasts in the Tradition of the Church there is an octave. It is a way to continue to enjoy and relish and to attend to the graces of the feast! Over the next 8 days how will you celebrate St Benedict? What grace will you beg from the Holy Spirit? How will you live the charism bequeathed to us by Benedict and his children through the ages?