Pope Benedict XVI processed from the Benedictine Church of Saint Anselm to the Dominican Church of Saint Sabina on the Aventine Hill. A long standing tradition of the popes, though it was in abeyance for several years until 1979 when John Paul II revived the tradition. The Benedictine monks welcome the Pope and his entourage for a moment of prayer and reflective before processing to the 5th century church of the Dominican Friars where Holy Mass is celebrated with the distribution of ashes. As usual, Cardinal Tomko, the cardinal titular of Saint Sabina's gave Benedict his ashes. The following homily of the Pope's focusses on the origins of this humble sign that assists in our recognition of salvation. Is this our recognition, too?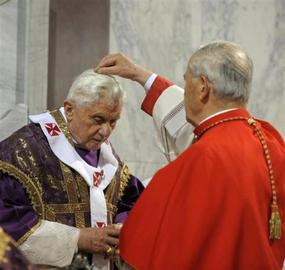 Ash Wednesday is a day of fasting and penance on which we begin a new journey towards the Easter of Resurrection, the journey of Lent. I would like to reflect on the liturgical sign of the ashes, a material sign, a natural element that, in the Liturgy, becomes a sacred symbol, so important on this day that marks the start of our Lenten journey. In ancient times, in the Jewish culture, it was common to sprinkle one's head with ashes as a sign of penance, and to dress in sack-cloth and rags. For us Christians, there is this one moment which has important symbolic and spiritual relevance.
Ashes are the material sign that brings the cosmos into the Liturgy. The most important signs are those of the Sacraments: water, oil, bread and wine, which become true sacramental elements through which we communicate the Grace of Christ who comes among us. The ashes are not a sacramental sign, but they are linked with prayer and the sanctification of the Christian people. Before the ashes are placed on our heads, they are blessed according to two possible formulae: in the first they are called "austere symbols", in the second, we invoke a blessing directly upon them, referring to the text in the Book of Genesis which can also accompany the imposition of the ashes: "Remember that you are dust and unto dust you shall return".