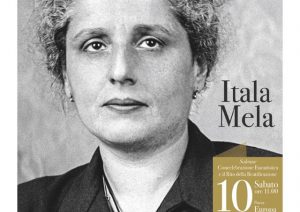 On Saturday, June 10th, Itala Mela (1904-57) was beatified in La Spezia, Italy, her home town. Cardinal Angelo Amato, the prefect of the Congregation for the Causes of Saints, offered Mass and declared Mela a Blessed of the Church in the presence of 3000 people.
The liturgical memorial of Blessed Itala Mela will be April 28, the day prior to her anniversary of death so not to conflict the feast of St. Catherine of Siena, one of the patron saints of Italy.
In previous posts on Mela, I noted she was an Italian laywoman who eventually found her vocation not as a Benedictine nun but as a Benedictine Oblate.
Itala Mela was a well-known mystic of the Church, her popularity certainly grew following her death. She was the author of several theological writings that focused on the Blessed Trinity.
In his June 11th, Trinity Sunday Angelus Address, Pope Francis said that Blessed Itala Mela was not raised in the Catholic Faith, and in fact she identified herself as an atheist following her brother Enrico's death at the age of nine in 1920. The tragic loss sent her in a tail-spin.
She later converted to Christ, however, following an intense spiritual experience on the Feast of the Immaculate Conception (1922) at the age of 18. This sudden reawakening of her faith prompted her to say with conviction: "Lord, I shall follow You unto the darkness, unto death." Her mission was to assist Catholic university students in developing their God-given, human desires through an emphasis on the spiritual life.
Mela's own spiritual path was not straight but she eventually recognized that consecrated life was not her vocation; then she became a Benedictine Oblate in 1933 of the Abbey of Saint Paul outside the Walls in Rome and undertook a mystical journey focused on the mystery of the Most Holy Trinity taking the name Maria of the Blessed Trinity. Among her guides were Blessed Alfredo Ildefonso Schuster, OSB (1880-1954), a Benedictine monk (of St Paul's in Rome) who later became the Cardinal-Archbishop of Milan and Blessed Paul VI, also of Milan and later the Roman Pontiff.
Typically, Oblates promise the three Benedictine vows of Conversatio, Obedience and Stability, yet she also made a fourth vow of consecration to the Holy Trinity which she considered as her mission in the Church and world.
It was very fitting that Mela was beatified on the solemnity of the Holy Trinity. The Pope also said that "The testimony of the new Blessed encourages us, during our journeys, to often direct the thoughts to God the Father, Son and Holy Spirit who dwells in the cell of our heart."
Blessed Itala Mela now becomes a sign of holiness not only for the entire Church, but in particular for the laity. In fact, Cardinal Amato said in his homily, "Society needs secular holiness, education, economics, family, politics. The world needs lay saints."
Blessed Itala, pray for us.