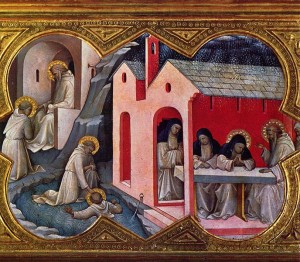 Benedictines have today as the feast day of Saint Maurus and Saint Placidus, disciples of Saint Benedict. What sticks out in peoples minds about Maurus is the relation he has with Benedict's impressive miracles. The miracle is recounted by Pope Saint Gregory the Great in chapter 7 of the Second Book of his Dialogues:
"On a certain day, as the venerable Benedict was in his cell, the young Placidus, one of the Saint's monks, went out to draw water from the lake; and putting his pail into the water carelessly, fell in after it. The water swiftly carried him away, and drew him nearly a bowshot from the land. Now the man of God, though he was in his cell, knew this at once, and called in haste for Maurus, saying: 'Brother Maurus, run, for the boy who went to the lake to fetch water, has fallen in, and the water has already carried him a long way off!'
What does the miraculous gesture of Saint Benedict show us?  The raising of Placidus challenges what we typically believe about truth and reality and our disordered desire to be constantly in control. Benedict tells us that we are not in control –only God is. The ordering of our human desires requires us to be in alignment with God's Holy Will. This episode also illustrates Benedict's point in the monastic tradition and spoken of in the Rule of mutual obedience –the listening to each other and the following the lead of the superior. On one level mutual obedience teaches a fraternal reliance on one another; on a higher level, mutual obedience is a distinct form of listening to the Holy Spirit. The Spirit is manifests Himself in the discerning and holy activity of people who have their hearts and minds attuned to God's Voice.