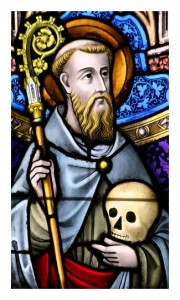 Saint Odilo of Cluny (962-1049) is remembered for his intense Benedictine life at Cluny and as the 5th abbot of Cluny he oversaw the expansion of the Cluniac reform but he's best remembered for his concern for he poor souls in purgatory. There is some debate if he was the 5th or the 3rd abbot of Cluny. However, Odilo's importance lies in the fact that he instituted the commemoration of All Souls (c. 1030) as a yearly liturgical remembrance. The Church from the earliest days prayed for the dead with some regularity. Theologically he had a significant interest in the Incarnation.
Hence two things of Christian life had Saint Odilo's attention: the care of the poor and the souls of the dead. Of the latter concern also impacted the prior –he decreed that Mass be offered and a monetary offering be made for the poor. He made almsgiving connect with fasting and prayer for the dead: it is not only a lenten piece of Christian spirituality but something that gives a renewed flavor to living the gospel.  Odilo instructed that the offering of food given to twelve poor people (as much food as the monks would eat at the main meal).
Regarding the monastic life, Abbot Odilo showed great solicitude for the observance of the monastic life by visiting the monasteries under his guidance on a regular basis. The monasteries following the Rule of Cluny really formed these Benedictines into an "order" because of a centralized authority system and the appointment of superiors in the priories (versus the typical election of a superior found in Benedictinism). Thus, he ensured that decadence that has a habit of creeping into a monk's life was averted.
Saint Odilo has several possible dates for his liturgical memorial: January 1, 2, or 3; 19 at Cluny; April 29 as part of the feast of the Seven Abbots of Cluny and February 6 in Switzerland. Take your pick. But I think, generally, Odilo's liturgical memorial is bridged with under the title of "Abbots of Cluny" on April 29.
The antiphon "Odilo showed wondrously what was the charity of his heart, who, while pitying sufferings of the faithful departed, yearly decreased them by a sweet refreshment, alleluia."