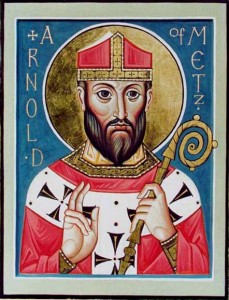 I didn't know until I saw the following post on the Daylesford Abbey FB page:
Today we remember Saint Arnold of Soissons (1040–1087), the patron saint of hop-pickers and beer brewers. Arnold, born in Belgium, founded the Abbey of St. Peter in Oudenburg. At the abbey, he began to brew beer, as essential in medieval life as water. He encouraged local peasants to drink beer, instead of the contaminated village water, due to its "gift of health." During the process of brewing, the water was boiled and thus, unknown to all, freed of pathogens.
As one would have thought, a Benedictine monk perfected beer making. Saint Arnold did good work for the health of his people through brewing beer.
Saint Arnold, pray for hop pickers, beer brewers, and for all of us who enjoy a good beer.