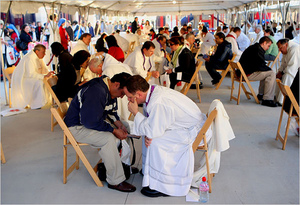 The Congregation for Clergy published an examination of conscience entitled "The Priest, Minister of Divine Mercy: An Aid for Confessors and Spiritual Directors" which hopes to reinvigorate the priest's spiritual paternity by a recovery of the sacrament of Confession by penitent and confessor. Here is yet another aspect of the new evangelization called for by Blessed John Paul II and now Pope Benedict: the renewal of priests and people through Reconciliation. This document is the fruit of Pope Benedict's Year for Priests. As Cardinal Piacenza notes, this "is a measure of authentic faith in the saving action of God which shows itself more clearly in the power of grace than in human strategic or pastoral initiatives which sometimes overlook this essential truth." A sobering statement for one who works in a parish.
On the surface it seems that this text is exclusively for the clergy. Don't be fooled! I would recommend it to the laity as well. Be acquainted to the sacrament of Confession, the theology and practice of the Church and what the Church expects of her clergy. We have to help each other see Christ's work among through concrete manifestation of Divine Mercy.
The introduction follows here (the link to the full text is at the end):
"It is necessary to return to the confessional as a place in which to celebrate the Sacrament of Reconciliation, but also as a place in which "to dwell" more often, so that the faithful may and compassion, advice and comfort, feel that they are loved and understood by God and experience the presence of Divine Mercy beside the Real Presence in the Eucharist".