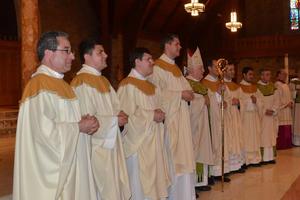 In recent days several dioceses and religious orders have ordained men to the priesthood.
The priest is to "understand ... imitate ... and conform" his life to the Cross of Jesus. The bishop exhorts the man to be ordained to see that he believes what he reads, that he teaches what he believes and practices what he teaches.
Here is a random sample:
The Archabbey of Saint Vincent: 1
The Franciscan Friars of the Renewal: 4
The Order of Preachers, New York: 6
The Idente Missionaries of Christ: 1
The Archdiocese of Boston: 5
The Archdiocese of Hartford: 7
The Archdiocese of New York: 6
The Archdiocese of Newark: 5
The Archdiocese of Philadelphia: 3
The Archdiocese of Los Angelus: 2
The Eparchy of Newton: 1
The Eparchy of Saint Maron, Brooklyn: 2
The Diocese of Bridgeport: 7
The Diocese of Paterson: 9
Saint John Mary Vianney, pray us.