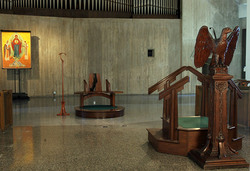 On August 27, 2012, the Abbot of
Daylesford Abbey
in Paoli, PA, vested two secular priests in a traditional rite as novices of the Norbertine Abbey.
The video digest of vocation story of Father Herb Sperger being vested with the Norbertine habit can
be viewed here
.
On August 28, 2012, Brother James Garvey professed first vows as a Norbertine. His narrative
can be seen here
.
Saint Norbert and all Norbertine saints pray for the novices!