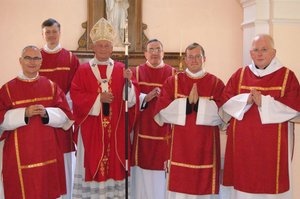 A friend in England, Stuart Meyer, was ordained to the Order of Deacon for service in the
Archdiocese of Southwark
(in the UK) this past Saturday Archbishop Peter David Smith. Southwark is an archdiocese just outside of London where, according to statistics in 2010 the population is 86% Catholic.
Deacon Stuart was an ordained member of the Church of England for many years until he entered into full communion with the Church of Rome. He desired to serve the Lord and the Church as a Catholic priest and did the studies required. The new deacon does not belong to the Anglican Ordinariate, but to the Archdiocese of Southwark.
We offer our congratulations to Deacon Stuart Meyer and pray that the Blessed Virgin Mary, Saints Lawrence and Stephen continue to guide. Pray for Deacon Stuart as he prepares for priestly ordination and for vocations to the Catholic Church in England.