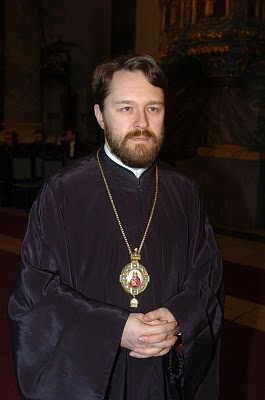 Back on 31 October 2012, Russian Orthodox Metropolitan Hilarion Alfeyev of Volokolamsk
delivered a lecture dedicated to the past and present of Orthodox-Catholic dialogue at Villanova University (Philadelphia, PA). The 46 year old Metropolitan earned a doctorate from Oxford University and was ordained a bishop in 2002. In addition to being a residential bishop he is also the head of the Department of the External Church Relations since 2009. He is a widely published author and an excellent musician of international repute. The two Churches share the same concerns, though there are nuances to be made but that is a conversation for another time.
I think it is apropos to give a few extracts from the Metropolitan's talk that pose some points for reflection on the unity of Christians. Remember we beginning the octave of Christian Unity on the 18th.
"The teaching of the holy fathers of the first millennium, when the Churches of the East and the West abided in unity, although at times this unity was subjected to serious trials, is the sure foundation upon which dialogue between Christians can develop successfully and fruitfully. It is my profound conviction that fidelity to the Christian tradition, the preservation of continuity in the teaching and life of the Church is the proper means for the restoration of unity among Christ's disciples.