I am reading Verbum Domini with great eagerness. I am talking my reading seriously and trying to ponder what the Pope has given us as a path to Christ and to live as an authentic Christian today. Let's recall the extraordinary address of Pope Benedict XVI on October 6, 2008 where he said: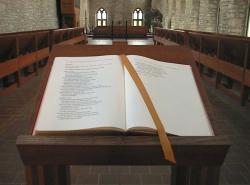 "the Word of God is the foundation of everything, it is the true reality. And to be realistic, we must rely upon this reality. We must change our idea that matter, solid things, things we can touch, are the more solid, the more certain reality. At the end of the Sermon on the Mount the Lord speaks to us about the two possible foundations for building the house of one's life: sand and rock. The one who builds on sand builds only on visible and tangible things, on success, on career, on money. Apparently these are the true realities. But all this one day will pass away. We can see this now with the fall of large banks: this money disappears, it is nothing. And thus all things, which seem to be the true realities we can count on, are only realities of a secondary order. The one who builds his life on these realities, on matter, on success, on appearances, builds upon sand. Only the Word of God is the foundation of all reality, it is as stable as the heavens and more than the heavens, it is reality. Therefore, we must change our concept of realism. The realist is the one who recognizes the Word of God, in this apparently weak reality, as the foundation of all things. Realist is the one who builds his life on this foundation, which is permanent."
Scott W. Hahn, Covenant and Communion (2009), p. 22.
In another place we read:
You cannot put revelation in your pocket like a book you carry around with you. It is a living reality that requires a living person as the locus of its presence.
That is, the believer becomes real insofar as he becomes the Word by hearing such that he does it. That seems to be the only reality that perdures. Revelation is an act in which God shows Himself. Faith is a corresponding act of hearing and doing the Word heard. Outside of that, everything else perishes into nothingness.
J. Ratzinger, God Word: Scripture - Tradtion - Office, Ignatius (2008): 52.