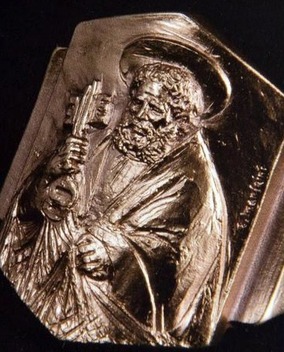 The Cardinal Dean prays,
Most Holy Father, may Christ, the Son of the living God, the shepherd and guard- ian of our souls, who built his Church upon rock, grant you the ring, the seal of Peter the Fisherman, who put his hope in him on the sea of Galilee, and to whom the Lord Jesus entrusted the keys of the Kingdom of heaven.
Today you succeed the Blessed Apostle Peter as the Bishop of this Church which presides over the unity of charity, as the Blessed Apostle Paul has taught. May the Spirit of charity, poured into our hearts, grant you the gentleness and strength to preserve, through your ministry, all those who believe in Christ in unity and fellowship.
Note on the ring
The ring was designed by the Italian sculptor Enrico Manfrini; he died in 2004. The ring belonged to Archbishop Pasquale Macchi (1923-2003), secretary of the Venerable Servant of God Pope Paul VI. Later in life Macchi was the Prelate of Loreto. It is reported that the use of three rings was a suggestion of Monsignor Guido Marini, the Master of Pontifical Liturgical Ceremonies and Giovanni Cardinal Re, Prefect-emeritus of the Congregation of Bishops. The Pope chose this one.