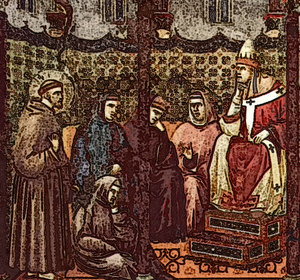 Last Sunday at the keynote address given by Father Julián Carrón who said among many other good things is that preaching is taking part in man's search for God. Moreover, preaching arouses curiosity from within, that one of its aim is to overcome the divide between faith and life.
We can point to the many instances when the preacher goes to his file, looks for the right date, and proceeds to inflict on the faithful yet another good example of pastoral slothfulness as if the faithful will not recall the last time the priest said the exact same thing. You can say that the quest of the Infinite, the quest for the Faith is severely reduced.
In his Vatican Diary yesterday, Sandro Magister wrote a piece that may interest you, "
Those who preach to the pope
." A timely essay given that Pope Benedict recently chose Cardinal Gianfrance Ravasi, president of the Pontifical Council for Culture, to preach this coming Lent.
Magister's essay is good not only because it reveals some insight into an aspect of papal life not often thought about by the laity, but it also shows a certain commitment of the Pope to hear others share what Father Carrón says about our searching for God and the preacher arousing curiosity in the hearer. Magister also provides a helpful list of names and affiliations.