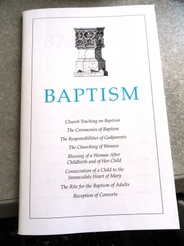 In the Latin Church there are several forms of celebrating the Sacrament of Baptism. Most Catholics today are familiar with the Rite of Baptism done according to the reforms of Pope Paul VI. Other Catholics follow the Traditional form according to the
Rituale Romanum.
This booklet follows this older form of the ritual.
The booklet is compiled by members of the Society of St Pius X (SSPX) who are not in full communion with the Roman Pontiff. Moreover, the booklet doesn't carry an imprimatur of a bishop in communion with the Pope.
This is a handy booklet on Baptism is in print
at Angelus Press
. One booklet is $3.95, 10 for $26.00.