I am presenting excerpts of a lecture delivered by Russian Orthodox Bishop Hilarion Alfeyev at the Wycliffe College, University of Toronto, October 21, 2008. This work was made known to me by a friend, Paulist Father Ron Roberson heads the Orthodox desk for the US Bishops ecumenical office in Washington, DC. The emphasis I added to the lecture are the ideas that are striking deserve greater attention by us. The keys are "personal encounter," and the lex orandi tradition and being conscious of the great divorce of faith and reason. Thanks for your patience.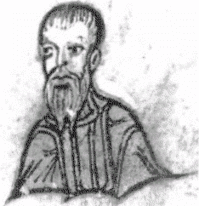 According to a classical definition by Evagrius, 'If you are a theologian, you will pray truly. And if you pray truly, you are a theologian'. In traditional Orthodox understanding, theology is not a science, or a scholarship, or an academic exercise. To be a theologian means to have experience of a personal encounter with God through prayer and worship.
Theology ought to be inspired by God: it ought not to be the word of a human person, but the word of the Spirit pronounced by human lips. A true Christian theologian is one who is able to be silent until the Holy Spirit touches the strings of his soul. And it is only when the human word falls silent and the word of the Spirit emerges from his soul, that true theology is born. From this moment 'a lover of words' is transformed into 'a lover of wisdom', a rhetorician into a theologian.
According to St Gregory Nazianzen, not everyone can be a theologian, but only the one who purifies himself for God. Not all can participate in theological discussions, but only those who are able to do it properly. Finally, not every theological concern can be discussed openly.
Discussion of theology is not for everyone, I tell you, not for everyone - it is not such inexpensive and effortless pursuit... It must be reserved for certain occasions, for certain audiences, and certain limits must be observed. It is not for all men, but only for those who have been tested and have found a sound footing in study, and, more importantly, have undergone, or at the very least are undergoing, purification of body and soul.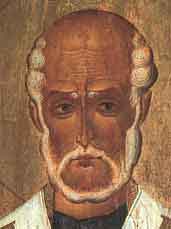 Theology, according to St Gregory, is nothing other than the ascent to God. Gregory uses the traditional image of Moses on Mount Sinai to emphasize that the true theologian is only someone who is able to enter the cloud and encounter God face to face. In this multi-dimensional, allegorical picture Moses symbolizes the person whose theology emerges from the experience of an encounter with God. Aaron represents someone whose theology is based on what he heard from others; Nadab and Abihu typify those who claim to be theologians because of their high position in the church hierarchy. But neither acquaintance with the experience of others nor an ecclesiastical rank gives one the right to declare oneself a theologian. Those Christians who purify themselves according to God's commandments may take part in a theological discussion; the non-purified ought not.
Thus, purification of soul is a necessary precondition for practicing theology. Its central point is summed up in the following dictum: 'Is speaking about God a great thing? But greater still is to purify oneself for God'. Here, purification (katharsis) is not opposed to theology: rather, theology is that ascent to the peak of Mount Sinai which is impossible without purification. What is required for practicing theology is not so much intellectual effort, neither external erudition, nor wide reading, but first of all humility and modesty. According to Gregory, humility is not to be found in someone's external appearance, which may often be deceitful, and perhaps not even in how someone is related to other people, but in his attitude to God. The humble, in Gregory's judgment, is not he who speaks but little about himself, or who speaks in the presence of a few but rarely; not he who 'speaks about God with moderation, who knows what to say and what to pass over in silence'.
In other words, everyone can be a good Christian, but not everyone is able to investigate the depths of doctrine, where many things should be covered by an apophatic silence. Everyone can contemplate on matters of theology, but not everyone can be initiated into its mysteries.
All Christians must purify themselves for God: the more a person is purified, the more discernible are the words of the Spirit in his mouth. True theology is born out of a silent and humble standing before God rather than out of speculations on theological matters. We can see that this understanding is radically different from what we normally mean by 'theology'. One of the tragic consequences of the divorce between Christian theory and praxis, between faith and knowledge, is that nowadays knowledge about theological subjects does not necessarily presuppose faith. You can be a theologian and not belong to any church community; in principle, you do not need to believe in God to receive a theological degree. Theology is reduced to one of the subjects of human knowledge alongside with chemistry, mathematics or biology.
Another divorce which needs to be mentioned is that between theology and liturgy.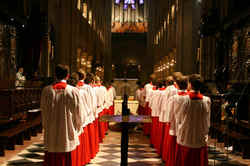 For an Orthodox theologian, liturgical texts are not simply the works of outstanding theologians and poets, but also the fruits of the prayerful experience of those who have attained sanctity and theosis. The theological authority of liturgical texts is, in my opinion, higher than that of the works of the Fathers of the Church, for not everything in the works of the latter is of equal theological value and not everything has been accepted by the fullness of the Church. Liturgical texts, on the contrary, have been accepted by the whole Church as a 'rule of faith' (kanon pisteos), for they have been read and sung everywhere in Orthodox churches over many centuries.
Throughout this time, any erroneous ideas foreign to Orthodoxy that might have crept in either through misunderstanding or oversight were eliminated by church Tradition itself, leaving only pure and authoritative doctrine clothed by the poetic forms of the Church's hymns.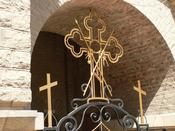 Several years ago I came across a short article in a journal of the Coptic Church where it stated that this Church had decided to remove prayers for those detained in hell from its service books, since these prayers 'contradict Orthodox teaching.' Puzzled by this article, I decided to ask a representative of the Coptic Church about the reasons for this move. When such opportunity occurred, I raised this question before one Coptic metropolitan, who replied that the decision was made by his Synod because, according to their official doctrine, no prayers can help those in hell. I told the metropolitan that in the liturgical practice of the Russian Orthodox Church and other local Orthodox Churches there are prayers for those detained in hell, and that we believe in their saving power. This surprised the metropolitan, and he promised to study this question in more detail.
During this conversation with the metropolitan I expressed my thoughts on how one could go very far and even lose important doctrinal teachings in the pursuit of correcting liturgical texts. Orthodox liturgical texts are important because of their ability to give exact criteria of theological truth, and one must always confirm theology using liturgical texts as a guideline, and not the other way round. The lex credendi grows out of the lex orandi, and dogmas are considered divinely revealed because they are born in the life of prayer and revealed to the Church through its divine services. Thus, if there are divergences in the understanding of a dogma between a certain theological authority and liturgical texts, I would be inclined to give preference to the latter. And if a textbook of dogmatic theology contains views different from those found in liturgical texts, it is the textbook, not the liturgical texts, that need correction. Even more inadmissible, from my point of view, is the correction of liturgical texts in line with contemporary norms. Relatively recently the Roman Catholic Church decided to remove the so-called 'antisemitic' texts from the service of Holy Friday. Several members of the Orthodox Church have begun to propagate the idea of revising Orthodox services in order to bring them closer to contemporary standards of political correctness. For example, the late Archpriest Serge Hackel from England, an active participant in the Jewish-Christian dialogue, proposed the removal of all texts from the Holy Week services that speak of the guilt of the Jews in the death of Christ (cf. his article "How Western Theology after Auschwitz Corresponds to the Consciousness and Services of the Russian Orthodox Church," in Theology after Auschwitz and its Relation to Theology after the Gulag: Consequences and Conclusions, Saint Petersburg, 1999; in Russian). He also maintains that only a 'superficial and selective' reading of the New Testament brings the reader to the conclusion that the Jews crucified Christ.
In reality, he argues, it was Pontius Pilate and the Roman administration who are chiefly responsible for Jesus' condemnation and crucifixion. This is just one of innumerable examples of how a distortion of the lex credendi inevitably leads to 'corrections' in the lex orandi, and vice versa. This is not only a question of revising liturgical tradition, but also a re-examination of Christian history and doctrine. The main theme of all four Gospels is the conflict between Christ and the Jews, who in the end demanded the death penalty for Jesus. There was no conflict between Christ and the Roman administration, the latter being involved only because the Jews did not have the right to carry out a death penalty. It seems that all of this is so obvious that it does not need any explanation. This is exactly how the ancient Church understood the Gospel story, and this is the understanding that is reflected in liturgical texts. However, contemporary rules of 'political correctness' demand another interpretation in order to bring not only the Church's services, but also the Christian faith itself in line with modern trends.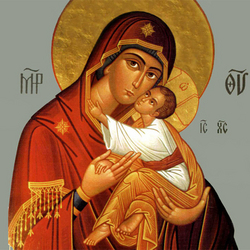 The Orthodox Tradition possesses a sufficient number of 'defense mechanisms' that prevent foreign elements from penetrating into its liturgical practice. I have in mind those mechanisms that were set in motion when erroneous or heretical opinions were introduced into the liturgical texts under the pretext of revision. One may recall how Nestorianism began with the suggestion to replace the widely-used term Theotokos (Mother of God) with Christotokos (Mother of Christ), the latter was seen as more appropriate by Nestorius. When this suggestion was made, one of the defense mechanisms was activated: the Orthodox people were indignant and protested. Later, another mechanism was put into operation when theologians met to discuss the problem. Finally, an Ecumenical Council was convened. Thus, it turned out that a dangerous Christological heresy, lurking under the guise of a seemingly harmless liturgical introduction, was later condemned by a Council.
To rediscover the link between theology, liturgy and praxis, between lex orandi, lex credendi and lex Vivendi would be one of the urgent tasks of theological education in the 21st century. The whole notion of a 'theology' as exclusively bookish knowledge must be put into question. The whole idea of a 'theological faculty' as one of many other faculties of a secular university needs to be re-examined. The notions of 'nonconfessional', 'unbiased', 'objective' or 'inclusive' theology as opposed to 'confessional' or 'exclusive' must be reconsidered.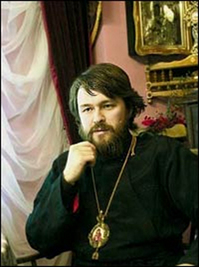 Hilarion Alfeyev was born on July 24, 1966 in Moscow. He studied violin, piano and composition. He graduated in 1991 with a Master of Theology from the Moscow Theological Academy. In 1995, Alfeyev earned a doctorate from the University of Oxford (UK) under the supervision of Bishop Kallistos Ware writing defending a thesis titled "St Symeon the New Theologian and Orthodox Tradition."
He entered the Monastery of the Holy Spirit in Vilnius, Lithuania, where he was tonsured as a monk, ordained a deacon and a ordained priest in 1987. His bishop assigned him to serve as parish priest in Lithuania, including two years as dean of Annunciation Cathedral in Kaunas.
From 1995 to 2001 Hilarion Alfeyev served as Secretary for Inter-Christian Affairs of the Department for External Church Relations of the Moscow Patriarchate. He also taught part time at Smolensk and Kaluga Theological Seminaries (Russia), at St Vladimir's and St Herman's Theological Seminaries (USA) and at Cambridge University (UK).
On 27 December 2001, Alfeyev was elected a bishop and consecrated by His Holiness Alexy II, Patriarch of Moscow and all Russia in January 2002. The Patriarch assigned him to serve as an Assistant Bishop in the Diocese of Sourozh in Great Britain until the Holy Synod decided, only a few months later, that he was to be nominated as Head of the Representation of the Russian Orthodox Church to the European Institutions in Brussels. Since May 2003 he has served as Bishop of Vienna and Austria, administrator of the Diocese of Budapest and Hungary, in addition to his position in Brussels, which he continues to hold.
Bishop Hilarion has authored numerous musical compositions including "St Matthew Passion," grand oratorio for soloists, choir and orchestra, with performances at the Great Hall of Moscow Concervatory, the Auditorium Conciliazione, Rome and at St Patrick's Cathedral, Melbourne. Equally well received was his 2008 "Christmas Oratorio," performed in Washington, Boston and New York and later in Moscow.