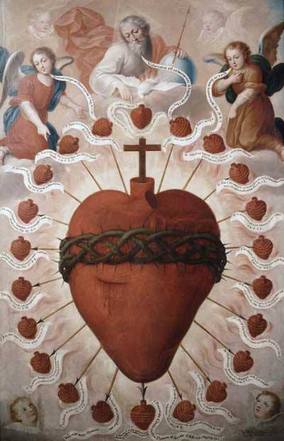 With the Church we pray...
Grant, we pray, almighty God, that we, who glory in the Heart of your beloved Son and recall the wonders of his love for us, may be made worthy to receive an overflowing measure of grace from that fount of heavenly gifts.
At the period of Jesus' coming upon this earth, man had forgotten how to love, for he had forgotten what true beauty was. His heart of flesh seemed to him as a sort of excuse for his false love of false goods: his heart was but an outlet, whereby his soul could stray from heavenly things to the husks of earth, there to waste his power and his substance. To this material world, which the soul of man was to render subservient to its Maker's glory--to this world, which, by a sad perversion, kept man's soul a slave to his senses and passions--the Holy Ghost sent a marvelous power, which, like a resistless lever, would replace the world in its right position: it was the sacred Heart of Jesus; a Heart of flesh, like that of other human beings, from whose created throbbings there would ascend to the eternal Father an expression of love, which would be a homage infinitely pleasing to the infinite Majesty, because of the union of the Word with that human Heart. It is a harp of sweetest melody, that is ever vibrating under the touch of the Spirit of love; it gathers up into its own music the music of all creation, whose imperfections it corrects, whose deficiencies it supplies, tuning all discordant voices into unity, and so offering to the glorious Trinity a hymn of perfect praise. The Trinity finds its delight in this Heart. It is the one only organum, as St. Gertrude calls it, the one only instrument which finds acceptance with the Most High. Through it must pass all the inflamed praises of the burning Seraphim, just as must the humble homage paid to its God by inanimate creation. By it alone are to come upon this world the favors of heaven. It is the mystic ladder between man and God, the channel of all graces, the way whereby man ascends to God, and God descends to man.
Dom Prosper Guéranger, OSB
The Liturgical Year