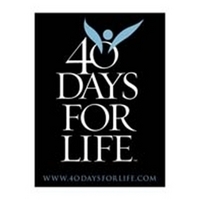 The pro-life campaign
40 Days for Life
begins today, Get involved to save an unborn life.
Being a part of the 40 day campaign is about prayer and fasting, keeping vigil at an abortion clinic and education in the community.
The use of the number 40 is a biblical metaphor: think of Noah, Moses, Jesus, who either spent 40 year days or years doing something for God the Father.
The 40 Days campaign runs until October 31.