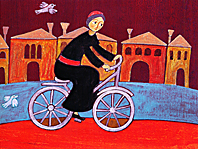 Many of us only know the name Albino Luciani. He was the one who became Pope John Paul I in 1978 and lived only 33 days as the Supreme Pontiff. That was 34 years ago; I was only 9 when the smiling pope appeared and then departed. I often think of what the face of the Church would've been like had he lived longer.
Celebrating the 100th birthday of Pope John Paul I (17 October 1912),
L'Osservatore Romano
and Il Messaggero di sant'Antonio organized a symposium on November 8 learn more about this enigmatic man. An editorial in
L'Osservatore Romano
gave but a peek of what was learned.
Indeed, it's interesting to hear that JPI followed three assumptions: "detachment from the world, obedience to superiors, and absolute faithfulness to the institution" in his ministry and that he was a lover of books. Me too. Apparently, JPI liked authors as diverse as Aesop, LaFontaine, Mark Twain (his favorite) to Chesterton and Dickens, among many. He also liked rock music and the comics. For a priest of the mountains he was an educated, curious and humane person. His cause for canonization is being studied.
Luciani spoke of the Second Vatican Council using soccer terms. Good for him. He got the point across to those who likely wouldn't know where to begin to understand the complexities of a Ecumenical Council.