The review of the proclamation of the Gospel in 2011 by the Pope is a stunning reminder that not all is complete if not rooted and grounded in Christ. His questions are good points for self-examination. Be careful to read the emphasis added to the text.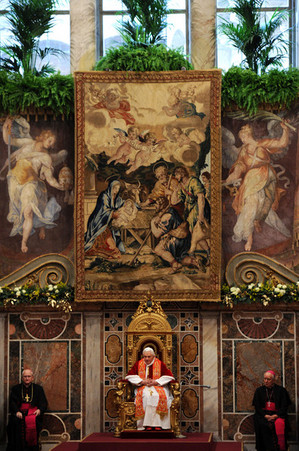 The occasion that brings us together today is always particularly moving. The holy feast of Christmas is almost upon us and it prompts the great family of the Roman Curia to come together for a gracious exchange of greetings, as we wish one another a joyful and spiritually fruitful celebration of this feast of the God who became flesh and established his dwelling in our midst (cf. Jn 1:14). For me, this is an occasion not only to offer you my personal good wishes, but also to express my gratitude and that of the Church to each one of you for your generous service; I ask you to convey this to all the co-workers of our extended family. I offer particular thanks to the Dean of the College, Cardinal Angelo Sodano, who has given voice to the sentiments of all present and of all who work in the various offices of the Curia and the Governorate, including those whose apostolate is carried out in the Pontifical Representations throughout the world. All of us are committed to spreading throughout the world the resounding message that the angels proclaimed that night in Bethlehem, "Glory to God in the highest and on earth peace to people of good will" (Lk 2:14), so as to bring joy and hope to our world.
As this year draws to a close, Europe is undergoing an economic and financial crisis, which is ultimately based on the ethical crisis looming over the Old Continent. Even if such values as solidarity, commitment to one's neighbour and responsibility towards the poor and suffering are largely uncontroversial, still the motivation is often lacking for individuals and large sectors of society to practise renunciation and make sacrifices. Perception and will do not necessarily go hand in hand. In defending personal interests, the will obscures perception, and perception thus weakened is unable to stiffen the will. In this sense, some quite fundamental questions emerge from this crisis: where is the light that is capable of illuminating our perception not merely with general ideas, but with concrete imperatives? Where is the force that draws the will upwards? These are questions that must be answered by our proclamation of the Gospel, by the new evangelization, so that message may become event, so that proclamation may lead to life.