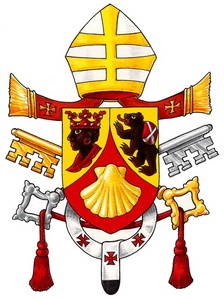 Pope Benedict XVI issued sweeping financial reforms for the Vatican City State and the Holy See in
the aftermath of great confusion
over perceived financial irregularities between the Italian State and the Institute of Religious Works (IOR). For the last six months the Pope has been dogged by accusations of another Vatican coverup of bad money deals causing unnecessary distractions. Recent mega-problems with financial and real estate matters at the Congregation for the Evangelization of Peoples, especially under the leadership of Cardinal Crescenzio Sepe, now the cardinal-archbishop of Naples, heightened papal awareness.
Clearly and consistently Benedict is interested in reform and renewal of the Church in all sectors and he sees this restructuring as part of the change needed. The Pope is cleaning a very dusty house. The new Laws conform to the Laws and principles in force in the European Union. A monetary agreement between the European Union and Vatican City State was signed on December 17, 2009. What's at issue are the questions on how the various Vatican agencies use money. Particularly, "self-money-laundering, the controls on cash entering or leaving Vatican City State, the obligations regarding the transfer of funds, and the heavy administrative sanctions that are applicable not only to legal persons and entities but also to the physical persons who act on their behalf, by means of the binding recourse action." Several other issues at hand are dealt with here: fraud and counterfeiting, protection of copyrights of money and circulation. None of the offices of the Vatican or the Holy See are going to exempt from financial oversight. Civil penalties will be imposed for violators. The Pope's new laws take effect April 1, 2011.
Benedict created a new governing agency for money matters: the Financial Information Authority (FIA) --which will look to prevent and combat money laundering. Essentially, the Authority is a Vatican watch dog for money and other tangible assets.
The mindset of the Pope and his assistants is: "The Holy See welcomes this new commitment and will make these material resources that are necessary to the mission and duties of Vatican City State." This is a moral and pastoral overhaul for the whole Vatican system.
For His Holiness, as the Communiqué says, "These new Laws are part of the Apostolic See's efforts to build a just and honest social order. At no time may the great principles of social ethics like transparency, honesty and responsibility be neglected or weakened (cf. Benedict XVI, Caritas in Veritate, 36)
You can read the
Communiqué of the Secretariat of State regarding the new legislation for the prevention and countering of illegal activities in the financial and monetary sectors